S-GROUP PARTICIPATES IN THE TOP TECHNOLOGY EXHIBITION WITH A SERIES OF PRODUCTS AND SERVICES – IMPRESSIVE TECHNOLOGY
On June 14, 2023, the Industry 4.0 Summit will officially take place. S-GROUP Group Joint Stock Company is honored to be one of 30 typical domestic and regional technology groups participating in the Forum and bringing impressive technology products.
Since 2018, Industry Summit 4.0 is an annual event chaired by the Central Economic Commission, in collaboration with central ministries and sectors. This is a prestigious and large-scale international event, highly appreciated by management agencies, experts and the business community, making an important contribution to the development and implementation of policies, Vietnam's strategies and policies on digital transformation, digital economy development and smart production.
Industry 4.0 Summit in 2023 has the presence of big names such as: Viettel, VNPT, Mobifone, FPT, Panasonic, VINAI, Vietcombank, TPBank, VTC, MISA, BHS, etc.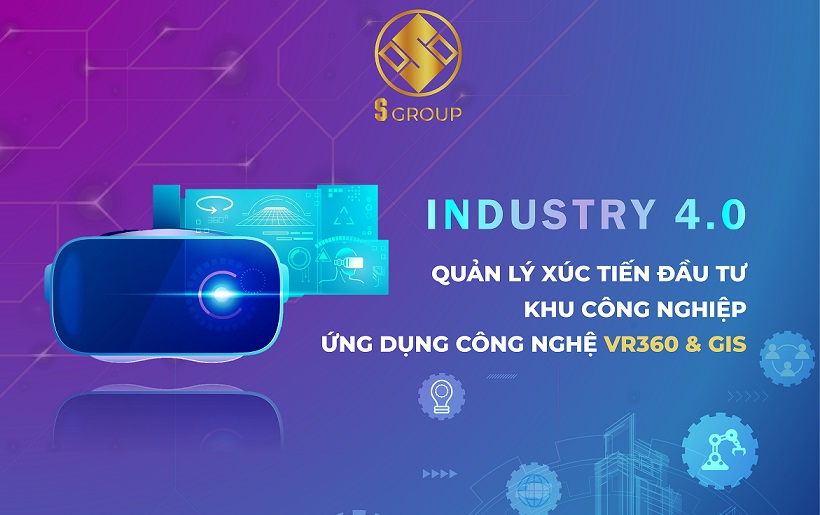 Coming to this technology exhibition, S-GROUP brings information technology, management and investment promotion products to economic zones and industrial parks on the basis of VR360, GIS technology, etc. Consulting services for the development of industrial zones are researched and deployed by ACUD Consult – the leading consulting unit in the country.
Regarding information technology products, management and investment promotion for IPs, this is a software system that is applied virtual reality technology Virtual Reality 360 (VR360) with GIS and the latest technology platforms. , in order to optimize the management and investment promotion for the industrial zone sector. Accordingly, with specialized equipment, modern image processing technology and researched processes to optimize execution time and cost, providing customers with high quality image products. with a very realistic experience.
Regarding design and planning consulting services for industrial parks and industrial zones, this is a highlight in the service chain of ACUD Consult – a member company of S-GROUP – Vietnam's leading industrial development consultant. Nam, highly appreciated by partners and management agencies. With more than 15 years of experience in the field of design and planning consulting, ACUD Consult has brought suitable and feasible design solutions, space ideas and strategic visions to partners and large investors. at home and abroad such as: VSIP, AMATA, PC1, NHS… in industrial zones, industrial zones in Bac Giang, Quang Ninh, Hai Phong, Quang Tri, Quang Ngai, Can Tho, etc.
In addition, S-GROUP also brought to the exhibition high-tech equipment in the field of 3D scanning such as: Virtual reality glasses, GNSS-RTK satellite navigation device, Leica BLK2GO, Leica BLK2GO handling laser scanner, Leica RTC360 3D Laser Scanner, Velodyne VLP-16 LiDAR scanner…

With the theme "Promoting digital transformation, fast and sustainable green transformation to make breakthroughs, shorten the process of industrialization and modernization of the country by 2030, with a vision to 2045", technologies, solutions and solutions. The software solutions brought to the exhibition are all advanced technology products, highly appreciated by experts for their functionality and usefulness.
This exhibition is not only an opportunity for S-GROUP to further promote the company's technology products and services to domestic and international markets, but also opens up potential cooperation opportunities with businesses and investors.