"MATCHING" TECHNOLOGY SOLUTION "MAKE IN VIETNAM"
Sharing with Business Forum Newspaper, Dr. Han Minh Cuong, Chairman of the Board of Directors of S-GROUP Vietnam Joint Stock Company emphasized, the technology solution is not only in collecting and analyzing data, but also in understanding the needs of each partner, launching new products. special technology, is "measured and made" for each project.
– How do you evaluate the current situation of digital transformation of businesses, especially those in the field in which S-GROUP is operating?
Dr. Han Minh Cuong, Chairman of the Board of Directors of S-GROUP Vietnam Joint Stock Company: In Vietnam today, under the influence of policies and practical requirements, the digital transformation is taking place widely in all economic sectors. economy, sectors and fields. However, the reality of digital transformation at enterprises is not uniform, and there are many shortcomings.
Accordingly, if in large enterprises, many enterprises have been carrying out digital transformation for a long time through the application of technology to management models, ERP, automated production, etc., then in enterprises for small businesses, digital transformation seems to be in its infancy. There are statistics showing that more than 90% of businesses do not have the right awareness of the role and importance of digital transformation. More than 80% of new businesses are at level 1 and level 2 according to the Enterprise Digital Transformation Assessment Level of the Ministry of Information and Communications.
– That is the requirement, but have the technology products provided by Vietnamese technology enterprises like S-GROUP now meet the above-mentioned transformation and breakthrough needs, sir?
On the market today, there are many technology products for digital transformation created by Vietnamese enterprises and widely applied in many fields, but the number of businesses really creating breakthroughs thanks to the There are not many applications of these solutions.
In my opinion, there are 3 main reasons for this situation. Firstly, because enterprises have not applied it thoroughly, it has only been applied to each stage of management, such as accounting or sales only. Second, because the market still lacks synchronous solutions for specific fields. Third, the application is still difficult because the human resources are not familiar and do not understand.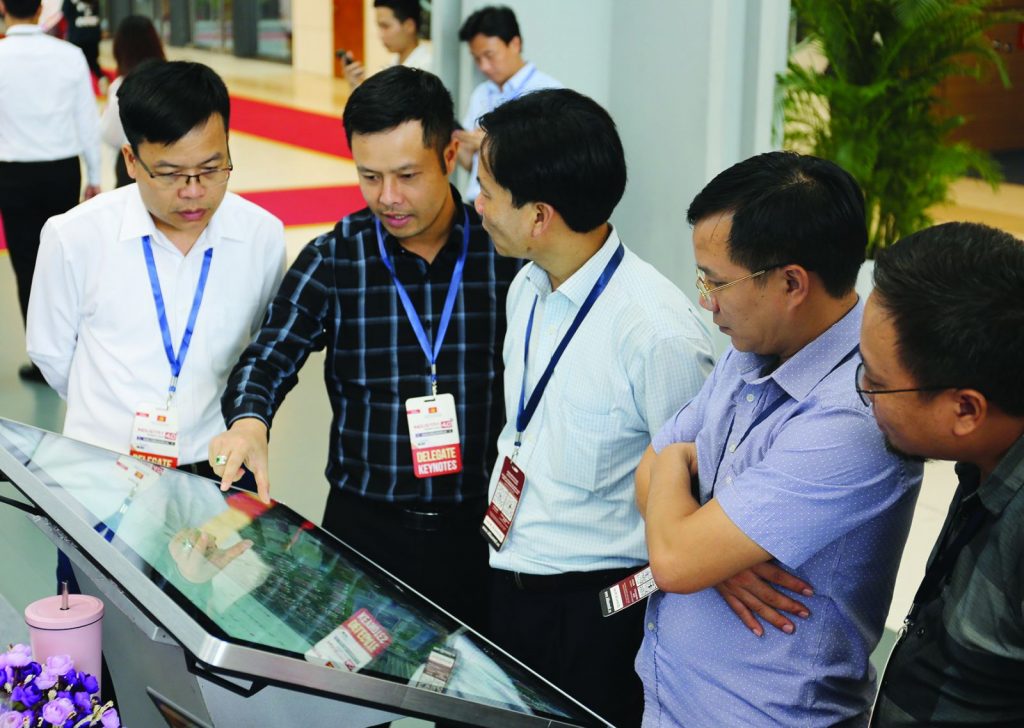 SGROUP Vietnam's digital transformation products are developed towards the goal of being able to serve a wide range of customers.
– So what advantages do S-Group's information technology, management and investment promotion products for industrial area provide, support for businesses and investors in industrial area, sir?
It can be said that the set of information technology products for the management and promotion of investment in industrial zones that S-GROUP develops is a special product when catching and winning the "disease" of enterprises, creating new value for the business. With the flexible application of the latest and most modern technologies today, the product brings an intuitive perspective and experience for users, easy access, flexibility in searching, information extraction and administration. good data.
– It is known that S-GROUP has applied virtual reality technology to its solution, what difference does this bring to corporate customers who are industrial park projects, sir?
Virtual reality technology (VR360) is not too new, not only S-GROUP applies this technology in its products. But the difference is that we have the flexibility and creativity in the application to "tailor" according to the requirements of each project, bringing unique effects to our businesses and partners.
Accordingly, for managers, planners or investors, information is currently only in static form or 2D and 3D models, but the integration is not yet available. As for S-GROUP's products, information is integrated, on the basis of a geographic information system (GIS), customers not only have access to information in a transparent, clear and fast way, but also have vivid experiences such as standing at the project or observing the project from above with the most comprehensive view.
So far, the digital transformation products that S-GROUP has developed are Vietnamese products, "Make in Vietnam", but we aim to be able to serve all different types of customers. And we want to be able to bring our products abroad, aiming for the global market.
– In this process, what barriers do businesses face and what solutions do you propose for the development of technology businesses, sir?
We very much hope that the Government will soon issue guiding regulations on synchronous and uniform data collection and processing across industries. And better yet, legalize those guidelines to make the implementation and operation of enterprises more convenient.
– Thank you Sir!
*According to: Business Forum Newspaper
https://diendandoanhnghiep.vn/may-do-giai-phap-cong-nghe-make-in-viet-nam-246224.html